Sussex Ceilidh Band is now 10 years old
Newick Folk, a Sussex Ceilidh Band was started in 2006 so now we are 10.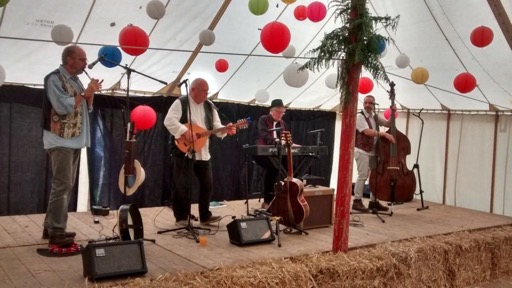 We've come a long way in that time. David and Jem are sadly no longer with us.
But Karn, Roland, Rhiannon and our Caller Jenny have joined Martin and Alan to form a tight line up suitable for pubs, parties and Ceilidhs. The music really suits events where there is a wide age range. That's because he children can't help but move to it and next their mums start to dance with them. Before you know it the party is in full swing.
We have become a competent Ceilidh band serving Sussex and counties south of the Thames. That's because we developed a distinctive sound by playing traditional songs and tunes backed up by an almost jazz rhythm section above which floats Rhiannon's wild violin.
What do we play?
We've learned our trade as we went. Our range of tunes and songs now covers all the traditions of these islands. These range from full on Irish for St Patrick's day to a number of what we term "off piste" number. These include Lily the Pink, My old man's a Dustman or even La Mer.
You can book us to play for your party or wedding, to play in the rain at your fund raiser or just to celebrate the madness of life. Rest assured we'll tailor the repertoire to the event and deliver an entertaining evening.
You might like to hear us play before you book us. Therefore we host regular sessions in local pubs. So you can find us at the Crown in Newick on the evening of the first Sunday of the Month. Or you could always buy our twin CD – the Burnt House Sessions featuring the late Jem Cooper. 30 tracks for £10.