Newick Folk Beginnings
Newick Folk originated in the Bull at Newick in 2010 and since then we've steadily been increasing our range to reach Forest Row, Lewes and Haywards Heath.
Five Bells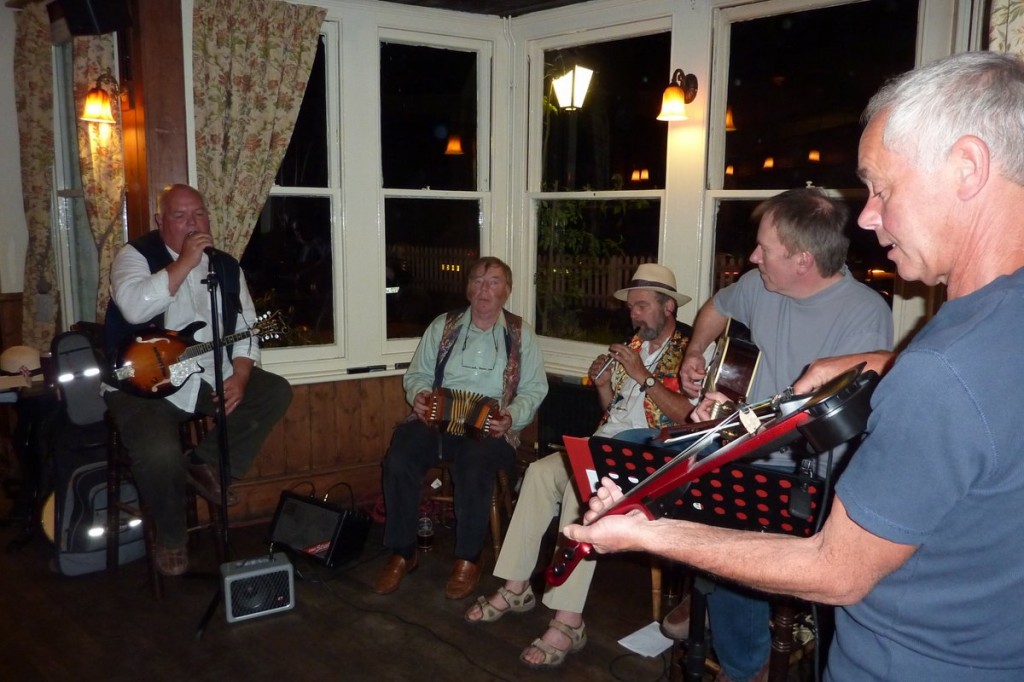 Newick Folk at the 5 Bells
We perform mainly traditional music plus anything else that takes our fancy. That might be anything from Lily the Pink and My Old Man's a Dustman to the themes from Captain Pugwash, Blackadder and Dr Who.
We set out to entertain you and more and people get up and dance. In fact we've recently started playing at Barn Dances with the help of local callers.
We have an eclectic background so musical adventures are always on the cards – we name the guilty men shown here playing a gig at local music pub the five bells.
#1 is our melodic front man Martin Horsfall wizard of whistle and Oboe sitting centrally in the picture in the hat.
#2 is Jem Cooper who plays concertina and mouth organ. Jem is a dark horse whose previous includes piano and sax. He's sitting on Martin's right (your left!)
#3 is David Hill who played fiddle and melodeon. He's at the right of the picture.
#4 is Alan Rae usually plays mandolin but doubles on guitar. He can be seen at the far left of the picture impersonating Nikita Kruschev. He does most of the singing mainly because he can remember the words. He also plays piano with Heavenly Blues and Just Tina.
#5 is Steve Brown – musical director and main guitarist. When not playing with us he's the Axeman for Deeply Purple. He's the one resplendent in grey next to David.
We play regularly at the Crown (Newick) on the first Sunday of the Month. And play regularly around the county at private parties, weddings, Ceilidhs as well as sessions for Burns Night and St Patrick's