Jem Cooper – 22/10/1947- 7/10/2015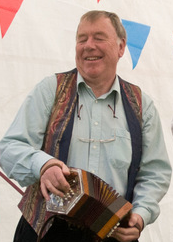 It's with great sadness that we need to tell you about the recent death of our great friend Jem Cooper who was a founder member of the band and our wonderful concertina and harmonica player.
We first met Jem in the Bull at the Open Mic maybe 7 or so years ago. He had encouraged Martin to get up and play the whistle in public accompanying him on the Harmonica. His attitude to playing was always "the more the merrier" and over time he inveigled David Hill, Steve Browne and most recently Roland Batty into playing with us. Whenever we played he would always be scouring the audience for people to sign up for the mailing list because he truly believed in company.
When we first started playing sessions at the crown, Jem would always have anyone back to the house who wanted to come and over beer and his favourite Anchovies some truly remarkable musical atrocities developed. Perhaps the most effective was the game he invented whereby everyone had to take it in turns to play a tune on an instrument they couldn't actually play and the rest of us had to guess what it was.
But there was much more to Jem than the happy musician. He had an extremely keen mind. He was always interested in both technical and political ideas and this stayed with him right to the end. If he was on the other side of the discussion you had to really up your game because with Jem there was no chance to get away with any flannel.
He will be sadly missed. Typically he was keen to take part in the recording session held a fortnight before his death and we are delighted that his playing has been captured for us to continue to listen to.
Here's him singing Polly Wolly Doodle at the last session.
.